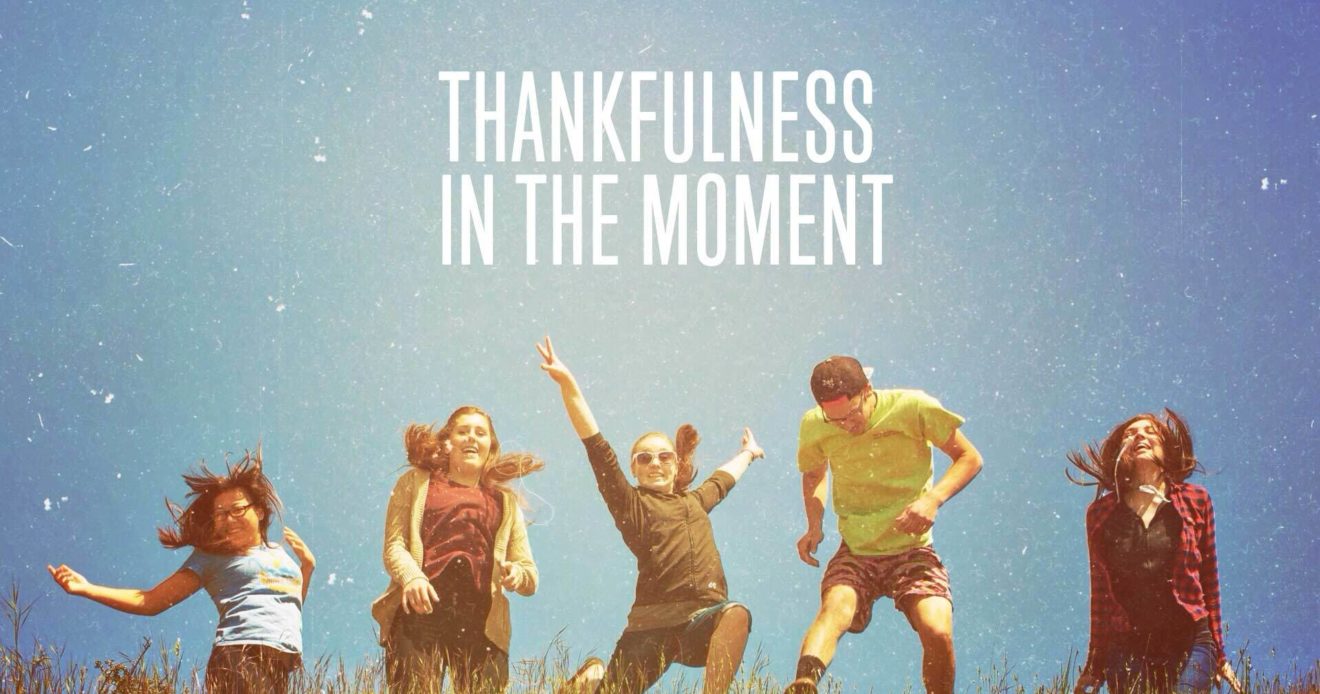 ---
Thankfulness In The Moment
---
Whether it is food covering every square inch of the table, a big family gathered together, or even a quiet afternoon watching a parade and some football; most of us can find thankfulness in a holiday centered on it. Even when things aren't perfect, we can take a step back and find some peace and contentment in the moment. After all, Thanksgiving is about thankfulness.
Thankfulness in the moment.
But moments come and go. Some moments you are overflowing with gratitude and joy that it fills you and sustains you for weeks. Other moments bring tragedy and despite your best efforts to get beyond the moment, its memory haunts you for a lifetime. But it is during this time each year that we muster up an extra amount of energy and brain capacity to take a moment and be thankful. However big or small, significant or not, we take a moment and simply rest in who we are and what we have. And we extend that gratitude to the God who gave us the food, the family, and even the football. That is until the moment is over.
But what if that moment of thankfulness was more than a moment in our lives, but the whole of it?
That made me stop and think about how Jesus approached life and what he asks of us as followers.
"Don't worry" - Matthew 6:25
"Don't be afraid" - Luke 12:32 (and a whole bunch of other places)
"My yoke is easy, and my burden is light" - Matthew 11:29
"Don't let your heart be troubled" - John 14:27
It doesn't take extensive research to notice that Jesus spoke a lot about not letting the influences of the world get to us or stress us out. Stress creates anxiety. Anxiety breeds more worry. Worry then drives our hearts and minds to greater and greater levels of negativity. Negativity gives birth to ungratefulness. These verses and plenty of others throughout the Gospels makes clear that Jesus has given us every reason not to worry and avoid that downward spiral. In fact, we are called to do the exact opposite of worry. We are called to be content, full of peace, and completely thankful. If that feels a little complicated, Paul does us all a favor and makes it more simple, but even more profound.
"Rejoice always, pray continually, give thanks in all circumstances; for this is God's will for you in Christ Jesus." - 1 Thessalonians 5:16-18
Our thankfulness was never intended to come in a singular moment and pass on the very next moment. It was intended to be a pattern or template for how we live as disciples of Jesus—creating an overwhelming sense of joy. No matter the circumstances or the external influences. No matter the amount of food, family, or football, we are called to find joy and be thankful.
As you celebrate this Thanksgiving with your friends, family, and your students, challenge each other to do exactly as Paul instructed the Thessalonians. Celebrate and be thankful like it is Thanksgiving every day. In every situation, in every moment, celebrate God and what he has provided. It will take time, and it will practice. You will slip back into old practices. And you will need people to help. But keep at it and make Thanksgiving more than a moment.
Nothing fancy. No catching lines or step by step process.
Just be thankful. All the time.
All the time. Be thankful.
---
Steve Kozak
Executive Director of AwanaYM
Steve currently serves as the Executive Director of AwanaYM. Previously, Steve spent over a decade teaching high school theology and apologetics from Detroit to LA. Steve holds a Masters degree in Theology from Moody Theological Seminary and a Masters in Christian Apologetics from Biola University. Steve is also an adjunct professor at Trinity International University. He speaks and writes on youth ministry, youth culture and apologetics. He resides in Chicago, IL with his wife and four children.
Follow Steve Kozak on Twitter: stevenmkozak
---
Comments
Get the AwanaYM Update
Receive youth ministry resources in your inbox. Subscribe today!