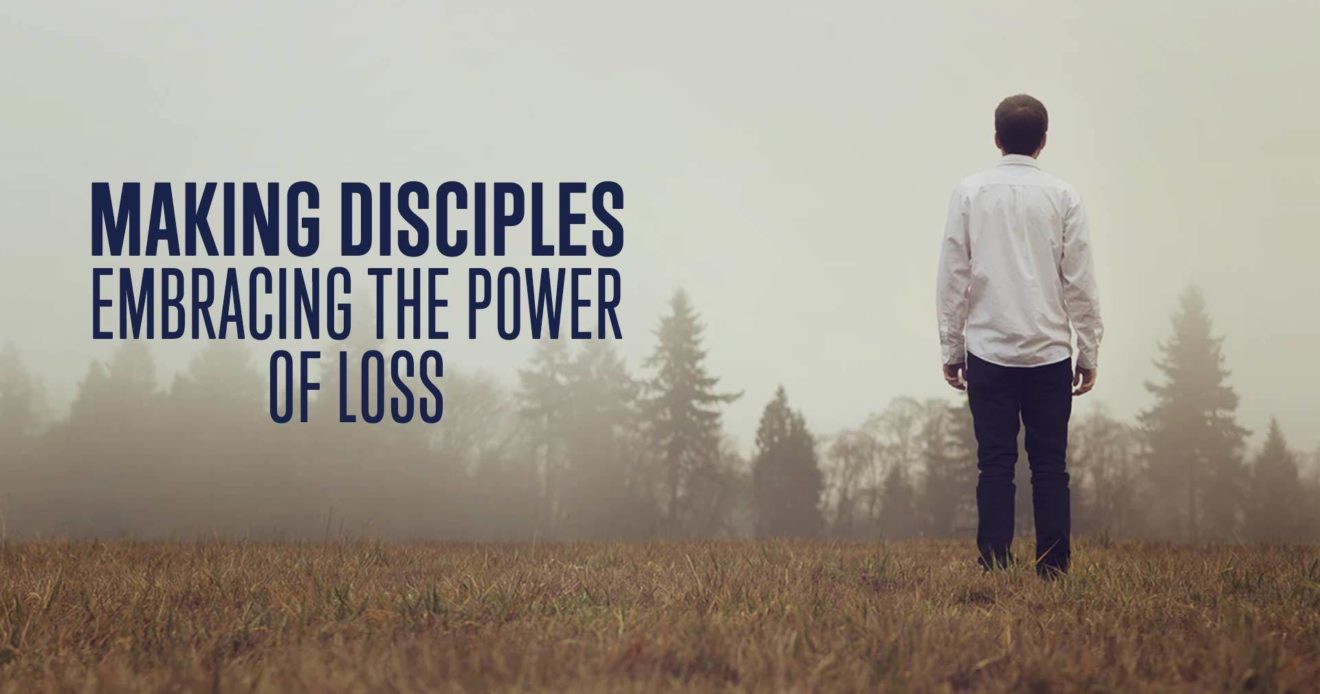 ---
Making Disciples: Embracing The Power of Loss
---
A few years ago I was standing in the back of a giant sanctuary during service at a youth camp. It was a special night designed for the speaker to walk the students through the gospel with the intention to ask for decisions as he closed. He gave an eloquent and emotional talk through the crucifixion and the subsequent beauty of the resurrection. Naturally, he reminded students of the gravity of their sin and rebellion against God. Then he made the ask. Do you want the life God desires for you? Do you want an escape from slavery of your sin? One student after another chose to follow Jesus. It was a tremendous sight, filled with emotion and celebration.
But there was one thing he didn't do.
He didn't ask anyone to close his or her eyes. Instead, he asked each student to stand, so that everyone in the room could join in on heaven's celebration of these students entrance into the kingdom. At the end of it, the place erupted in celebration. An uninformed bystander would have thought someone just won some kind of championship. It was a sight I had not seen before or since.
But there was something else he didn't do.
He never spoke of loss.
Salvation is not only about accepting God's free gift given through Jesus' punishment for our sins. It is about meeting and entering into a relationship with the person of Jesus as the Spirit of God takes up residence in us. That relationship requires loss. It requires the negation or elimination of ourselves so that we can be one with Christ. It is death so that we might have life. But this denial requires sacrifice and is so often left by the wayside of our gospel presentations—for fear that our audience may reject the message—and therefore compromising the message.
What we lose when we neglect the loss is precisely the message of Jesus and the message of the cross. And it is precisely the message we ought to be communicating to our students. Jesus told us that to follow meant to take up our cross (Matthew 16:24). He warned that to follow involved giving up the comforts of this life for the sake of the gospel (Luke 9:57-62). He even compels us to leave the things we love most if it runs contrary to proclaiming the kingdom of God (Luke 14:26). We spend an enormous amount of time and energy speaking about the gospel as if it was the missing link to the perfect life, when in fact it is the very thing that demands you to give up your life.
But within the gospel story, loss creates gain; death creates life.
Making disciples starts with the message of loss. Help your students see that the message of the cross and the life Jesus offers can't be likened to an app on your phone. There if you need it and out of the way when you don't—something you can freely download or delete on demand. However, the problem with loss is that in middle of the experience, none of us enjoy it and even actively try to avoid it. It is far easier to download Jesus into our lives and prevent any significant disruption. Instead, Jesus is seen as the missing puzzle piece to an otherwise complete picture of life. But when we look back on our losses we often see God working in ways we never imagined.
Taylor was a tremendous athlete in high school. She had big plans to play soccer at the next level at a high profile school. But early in her senior year, she suffered a career-ending ankle injury. Understandably she was devastated. Her world was wrecked. It took her some time to recover and refocus, but in time she started to see what God was doing. Today Taylor is a significant ministry leader in the church she grew up in and is impacting the lives of hundreds of students. Injury or not, I never had any doubt that she would continue to live a life chasing after Jesus, but it was loss that helped her become the disciple that God had always intended for her to become.
While not every student you mentor will experience significant loss, it is the pattern most seen throughout the New Testament and even the early church. By giving up our plans, hopes, and dreams and laying them down at the foot of the cross, Jesus takes what we see as loss and creates a life we could never have imaged.
As disciple-makers, we need to do everything we can to help our students see the power of loss and experience the life in Christ. So think about the students you mentor and disciple. What losses have they suffered or may experience in the future? How can you help them see that loss as a deepening in their relationship with Christ? How can loss draw them deeper into the gospel? Loss has a way of wrecking our worlds, but it also has a way of making better disciples.
---
Steve Kozak
Executive Director of AwanaYM
Steve currently serves as the Executive Director of AwanaYM. Previously, Steve spent over a decade teaching high school theology and apologetics from Detroit to LA. Steve holds a Masters degree in Theology from Moody Theological Seminary and a Masters in Christian Apologetics from Biola University. Steve is also an adjunct professor at Trinity International University. He speaks and writes on youth ministry, youth culture and apologetics. He resides in Chicago, IL with his wife and four children.
Follow Steve Kozak on Twitter: stevenmkozak
---
Comments
Get the AwanaYM Update
Receive youth ministry resources in your inbox. Subscribe today!