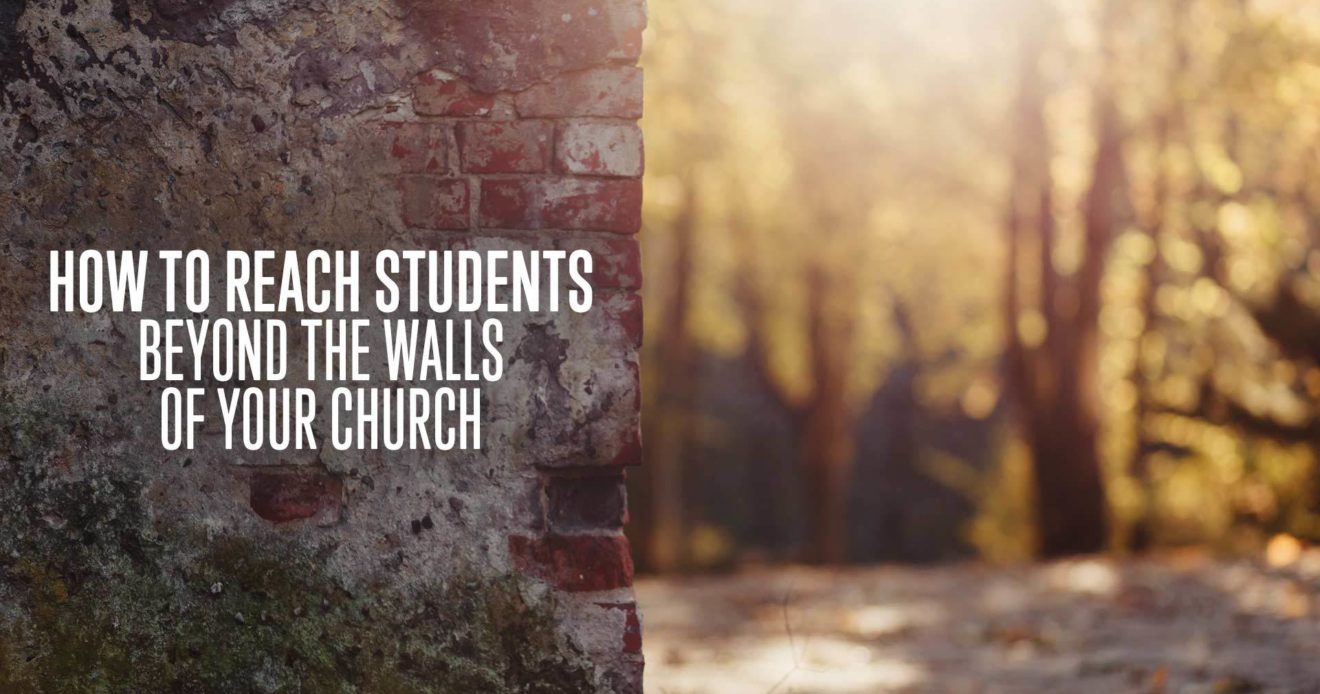 ---
How to Reach Students Beyond the Walls of Your Church
---
Recently I came across a question posted on Facebook from a small church youth pastor. He serves as a part-time, bi-vocational pastor. The ministry he inherited is not large—in fact, it has been shrinking. Students' busy schedules and the more popular and larger youth group in town seem to be doing a more thorough job of captivating the student's attention. None of which was his fault, just the cards he had been dealt.
Given my circumstances how can I get more kids to come to youth group?
Great question right? But the answer is not so simple. Mostly because I think it is the wrong question. Why do we want more kids coming to youth group? Because we want to introduce them to Jesus, we want to establish positive relationships with them, and we want to disciple them into the next stages of their lives. Which is precisely the point. Right? Yes, but I still think it is the wrong question.
It is a question of context.
We are given our unique circumstances in which God has commissioned us to reach out and minister to young students. For the pastor of a large, well-funded church—you may be able to draw more kids into a particular meeting space and time. You may have the resources to create an environment that students enjoy coming to and therefore have an open door for the gospel. Praise God. We need these kinds of ministries.
But many of you are called to similar situations as my Facebook friend—small church pastor, bi-vocational, or part-time volunteer—with limited time and limited resources. And for you, it is still a question of context. Don't focus on getting students to come to youth group. Focus on taking your ministry to them. Change your mindset of what it means to do youth ministry.
Be missional.
The missional mandate of Jesus was to go and make disciples, to be like him, to walk as he did, to be witnesses, and to do the same things that he did. There was never a focus on getting people to come to a place. The focus was on getting disciples to go and make more. Even the word gospel compels us to go. The word is about good news. If you have good news, you don't wait for people to show up to tell them. You go and tell them. How we take that news out into the world is all about context. In some contexts, the idea of large gatherings works. In fact, the youth ministry I began volunteering in years ago was a few hundred then and since exploded into more than five hundred. And the work that ministry does for the community and its students are tremendous. It is about how you use the resources God has given you to reach the most students possible.
What does it look like to be missional?
That depends on your situation. Just remember what Paul would do as he traveled. He focused his efforts on where the people already were. Showing up to Athens or Ephesus and putting flyers and Facebook posts that Paul was going to be in town preaching likely wouldn't have worked. So I gave this pastor a few suggestions. Most of it surrounded taking his ministry to the students where they already are. I told him to find local school counselors and connect with teachers and coaches in his church as well as neighboring churches about how you can be more involved. These ideas may work for him. He may discover better ones. As will you. That is the point. What is your context?
Now, this is the usual point in my blogs that I give you three simple strategies or five steps to take to do that idea I am suggesting you do. Today is different. I am not going to tell you how you ought to be missional. That is something you have to discover. What works for one pastor, may not work for another. You have to figure out what it looks like to be missional in your community, in your context, given your skills, and the way God has gifted you to reach others.
Try a few things. See what works and what does not. But above all else, remember that the church is called to be missional. You have been called to participate in your church's missional mandate, meaning you are to be the representative of Christ to the students in your community—all of the students in the community. Don't wait for them to come to you. Instead, just as Christ did and as he commanded, go into your world and the world of your students and preach the gospel.
---
Steve Kozak
Executive Director of AwanaYM
Steve currently serves as the Executive Director of AwanaYM. Previously, Steve spent over a decade teaching high school theology and apologetics from Detroit to LA. Steve holds a Masters degree in Theology from Moody Theological Seminary and a Masters in Christian Apologetics from Biola University. Steve is also an adjunct professor at Trinity International University. He speaks and writes on youth ministry, youth culture and apologetics. He resides in Chicago, IL with his wife and four children.
Follow Steve Kozak on Twitter: stevenmkozak
---
Comments
Get the AwanaYM Update
Receive youth ministry resources in your inbox. Subscribe today!